Do you do makeup and HAIR?
Unfortunately I do not offer hair services, but will be more then happy to refer someone!
I would like to get a trial done before I book, is that possible?
Absolutely! You are more then welcome to get a trial before you book, please note your date is not held without a signed contract and a deposit.

How many people can you accommodate at once?
Depending on the time line of your event can determine how many people can be accommodated.
How do I know when I need to be ready?
This is something you would speak to with your photographer or event planner!
Can I add additional people on day of?
You are more then welcome to add people on as long as time allows.
Do you stay for touch ups?
If you would like me to stay for touch ups, it can be done for an additional rate
Do you charge for travel?
Travel fees are included with my rate for up to one hour from 08527
Powered by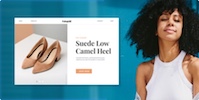 Create your own unique website with customizable templates.